What Kind of Care Home Activities Does Newgate Lodge Offer?
At Newgate Lodge Care Home, we are committed to enriching the lives of our residents. Our dedicated activities and lifestyle team works tirelessly to provide a diverse range of activities that promote socialisation, mental sharpness, and overall enjoyment. We understand the significance of offering a variety of life-enriching activities, as it helps create a sense of community, stimulates the mind, preserves mobility, fosters new friendships, and provides a pampered experience.
In this article, we will explore the importance of these activities and highlight some of the engaging options we offer for residents at Newgate Lodge.
Promoting Mental Sharpness
We strongly emphasise the importance of keeping our residents' minds active and engaged at Newgate Lodge. We firmly believe that mental stimulation is crucial for maintaining cognitive abilities and memory recall, contributing to a more fulfilling lifestyle for our residents. To achieve this, we have designed a diverse array of intelligent and fun activities specifically tailored to stimulate the cognitive functions of our residents.
These activities encompass a wide range of exercises;, reading newspapers and magazines, puzzles, quizzes, and memory games – they have proven to be effective in enhancing mental intuition. By participating in such activities, residents can sharpen their mental abilities and maintain their cognitive agility.
Remembering the Past and Embracing the Present
At Newgate Lodge, we recognise the unique needs of our residents who may be facing challenges associated with dementia. For individuals struggling with memory loss, it is necessary to create an environment that not only fosters their wellbeing but also helps them to remember and cherish significant moments from their lives while remaining connected to the present.
Reminiscence activities are an important part of our activities schedule. By engaging in reminiscence sessions, residents are encouraged to share personal stories and experiences, creating a sense of familiarity and a bridge between past and present. Additionally, we stay abreast of the latest research and developments in music therapy. Whether it's through sing-alongs, musical performances, or simply listening to soothing melodies via Alexa, music can evoke strong emotions and memories, even in individuals with advanced stages of dementia, making it an effective tool for connection and communication.
Maintaining Physical Fitness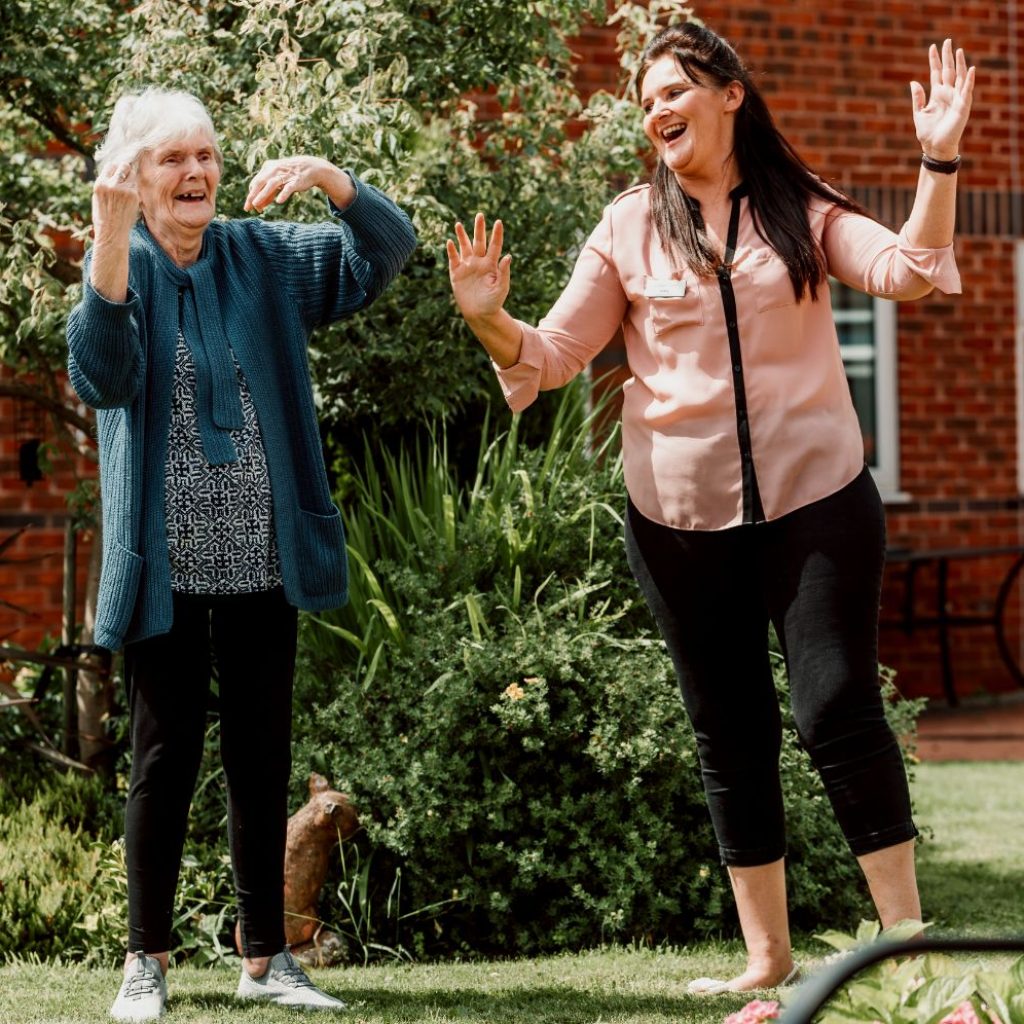 To ensure that our residents can lead an active lifestyle, we offer a diverse selection of physical activities. We recognise that everyone in our home has unique abilities and limitations, and we are dedicated to providing a wide range of activities that cater to all residents, regardless of their physical capabilities.
Activities include yoga sessions, walking outdoors, dancing, carpet bowls, armchair exercises, ball and balloon games, floor games, gentle exercise in bed, mindful relaxation and more. All of which are designed to promote good mobility, overall health, and a sense of vitality among our residents.
Our Wellbeing Sanctuary Room on the first floor is a serene and peaceful space designed to provide residents with a sense of tranquility and relaxation. The room is thoughtfully furnished with comfortable seating, soft lighting, and soothing colours to create a calming ambience. It is equipped with amenities such as gentle music, essential oil diffusers, and nature-inspired artwork to enhance the sensory experience. The sanctuary room offers a respite from the daily routine, allowing residents to retreat, unwind, and engage in activities that promote their overall well-being, such as meditation, yoga, or simply enjoying a moment of quiet reflection. It serves as a haven where residents can find solace, rejuvenate their spirits, and nurture their mental and emotional health in a nurturing and supportive environment.
Creating a Sense of Community
Our residents thrive on being part of a community rather than feeling isolated at home. We place a strong emphasis on fostering social connections and creating opportunities for our residents to make new friends.
Our activities lifestyle leads are proactive in ensuring our residents have the opportunity to go out into the community. From visiting the local shop to getting their hair done at a salon, residents feel connected and it provides social interaction, a sense of normalcy and a boost in overall well-being.
To facilitate meaningful social interactions, Newgate Lodge organises a wide range of social events and activities that cater to diverse interests and preferences. These events serve as platforms for residents to come together, engage in enjoyable experiences, and form lasting friendships.
From themed parties and cultural celebrations to bingo, movie nights and book clubs, there is always something exciting happening at our care home that encourages residents to connect with each another.
Pampering and Personal Care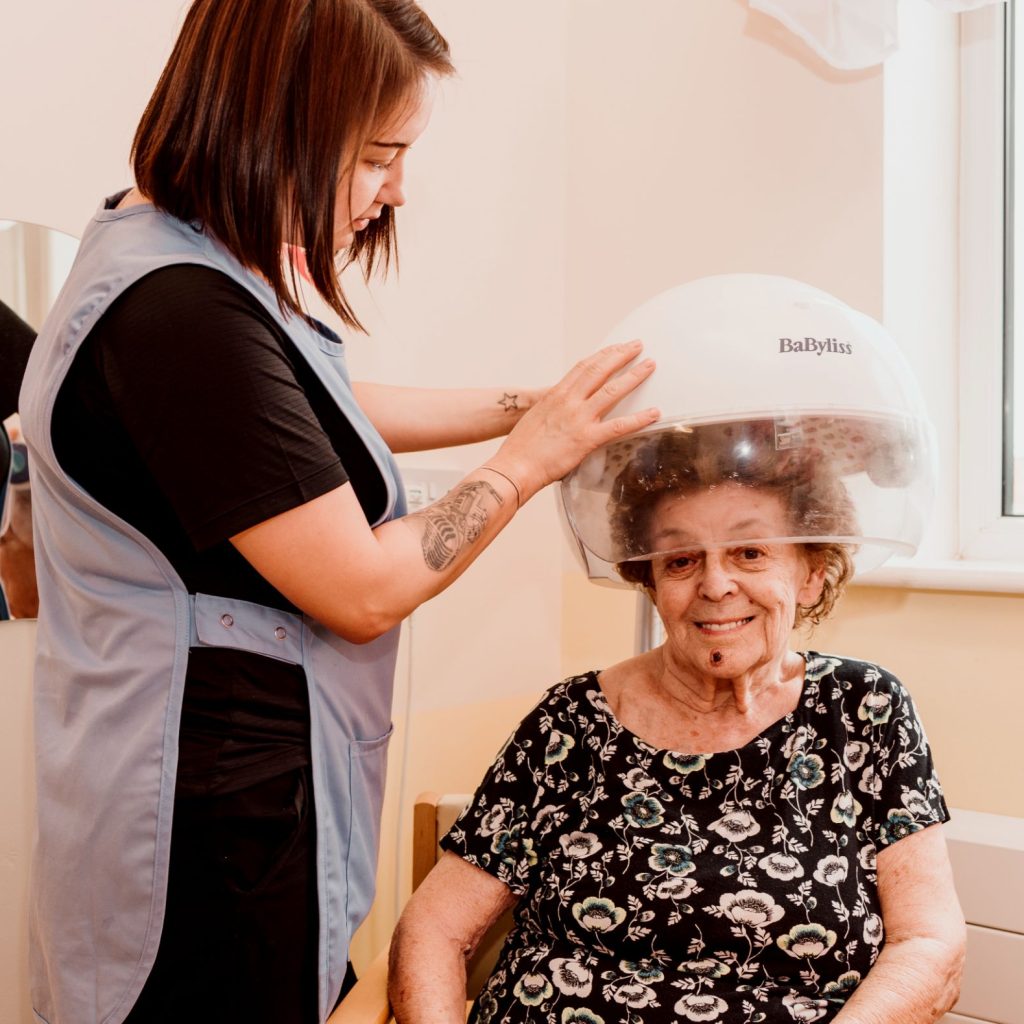 At Newgate Lodge, we believe that providing comprehensive care goes beyond meeting the basic needs of our residents. We understand the importance of ensuring that our residents feel looked after, pampered, and valued. As part of our comprehensive care packages, we offer fortnightly and even weekly activities that focus on personal care, such as spa days, manicures, hairdressing, and massage therapy.
These services are performed by professional stylists and beauticians who are attentive to individual preferences and needs, helping residents maintain a sense of dignity and personal style.
By incorporating these activities into our care packages, we go beyond physical care and aim to boost residents' self-esteem, promote positive self-image, and provide moments of indulgence and relaxation.
Embracing Creativity and Nature
Our activities coordinators thrive on planning engaging arts and crafts sessions, where residents can explore their creativity and express themselves through various artistic mediums. From painting and drawing to flower arranging and collage-making, there is a wide range of activities available to suit different interests and skill levels. Our coordinators provide guidance and support throughout the creative process.
In addition to arts and crafts, we also understand the importance of spending time outdoors and connecting with nature. Our care home has a beautiful, enclosed garden courtyard that provides a tranquil and serene setting for residents to relax and engage in gardening activities. There is an additional private garden to the side of the home that has been refreshed recently and residents can spend time with their loved ones here in private.
Diverse Weekly Activities
Each week, we curate a dynamic schedule of activities within the care home, ensuring a diverse range of options to keep our residents active, engaged, and happy.
By incorporating different activities regularly, we cater to individual interests and preferences, providing a vibrant and ever-changing environment that promotes overall wellbeing. By focussing on mental sharpness, reminiscence, physical fitness, socialisation, personal care, creativity, and outdoor engagement, we strive to create a supportive and stimulating environment that enhances the quality of life for our residents at Newgate. If you have a loved one who is seeking exceptional care and a supportive community, we invite you to take the next step and contact our dedicated team at Newgate Lodge.
Our compassionate staff are ready to answer any questions you may have and guide you through the process of arranging a tour of our care home. You can get in touch by calling 01623 622322 or by emailing manager@newgatelodge.com.